PAMPER  YOURSELF  WITH  A DIY  SPA  DAY

We're all spending a lot more time at home these days, and that means missing out on some of our much needed 'me time' treats. While the reopening of our favourite salons and nail bars is cause for celebration, a little extra pampering never goes wrong (and saves some pennies too). 
Here's how to bring the feeling of a luxury spa to the comfort of your very own bathroom. Just add a few little extras to your shopping list at Mall of the North and you're good to go!  
EXFOLIATE

There's definitely some comfort to be found in the control of a beauty routine. Exfoliate twice a week to help rescue tired and stressed skin. Pay attention to elbows, knees, and the back of your arms where skin tends to be the driest. Exfoliate with a dry brush or chemical-based product for best results.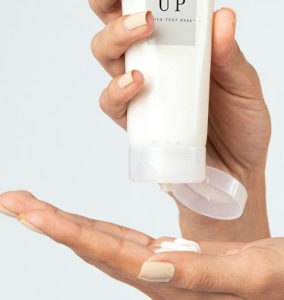 GIVE YOUR HANDS SOME LOVE
Lots of handwashing and extra sanitiser have taken its toll on our hands. Show them some love by spoiling yourself to nourishing moisturising balm and taking some time out to massage them as often as possible. 
BUBBLES, DARLING!
Is there anything more relaxing than a long, hot bath? We think not. Invest in a bath tray and haul out your fanciest bath bombs, salts and oils for a pampering session like no other. Your bath tray will certainly have a little extra space for your phone so you can catch up on some Netflix or simply enjoy some relaxing tunes in the tub. 
LIGHT IT UP
Those pretty candles aren't just for show. Take a few extra minutes to light your favourite scented candles and breathe before jumping into the shower and into your (home) office. Trust us, it's worth it!  
MAKE YOUR OWN MASK
We've all been wearing our face masks while shopping at Mall Of The North. Now it's time to DIY our own beauty mask at home using simple pantry staples. To DIY it do the following:
Combine ½ cup of hot water with one ⅓ of cup of oatmeal

Let the water and oatmeal sit for a few minutes

Mix 2 tablespoons of plain yoghurt

2 tablespoons of honey

1 small egg white 

Apply a thin layer of the mask to your face 

Let it sit for 10-15 minutes 

Rinse with warm water and GLOW HONEY!
DO  GOOD FOR NELSON MANDELA DAY

As we take some time out to give ourselves a little TLC, we know how equally important it is to extend a helping hand to our fellow South Africans and our community. The 18th of July is an opportunity to get behind a cause and donate our time and resources where they're needed most. We hope you'll consider sharing the love for a cause close to your heart too.