Here's how to make your home office rock
Whether you love it or have simply made peace with it, working from home isn't going anywhere just yet.
One very bright side to the working from home situation is you get to style your space your way. From colour schemes to quick accessories, we've rounded up a few ways you can make your home office space work harder and smarter for you. 
Colour combinations to help you smash those deadlines:
White with splashes of black

This is a great distraction-free option for the hopeless procrastinator. Black accents like desk accessories or wall art make for a space that is clean, classic, and uncluttered. And if you're looking forward to heading back to the 'real' office, space can easily change to a guest bedroom or kids' playroom. 
Purple for the creative soul

If your job requires a dash of creative flair, "or you just adore the colour as much as we do," choose purple to set the tone. Choose lighter tones of purple for smaller spaces and layer with darker shades through accessories or a funky office chair.
Create some calm with blues and greens

Conquer your stress with a cool, calm, and collected ambience by choosing blue, green, and slices of neutral colours for your home office. 
Soft shades of blue evoke serenity, while lush tropical greens are great reminders of nature to help you create your very own productive happy place. Introduce green into your space with a variety of indoor plants, stationery and furniture.
Bring the sunshine and get happy with yellow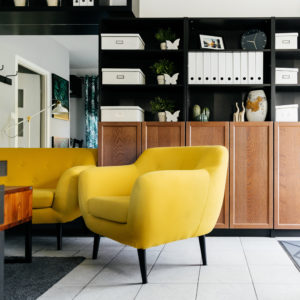 Working from home isn't always as easy as we imagined. Lift your spirits with a splash of yellow – it is after all one of Pantone's favoured colours for 2021. Too much yellow can be overly zealous and be distracting. Incorporate this happy hue through soft furnishings like lampshades and curtains or an accent wall.